Meet Christy Smith - Let's Hold CA 25!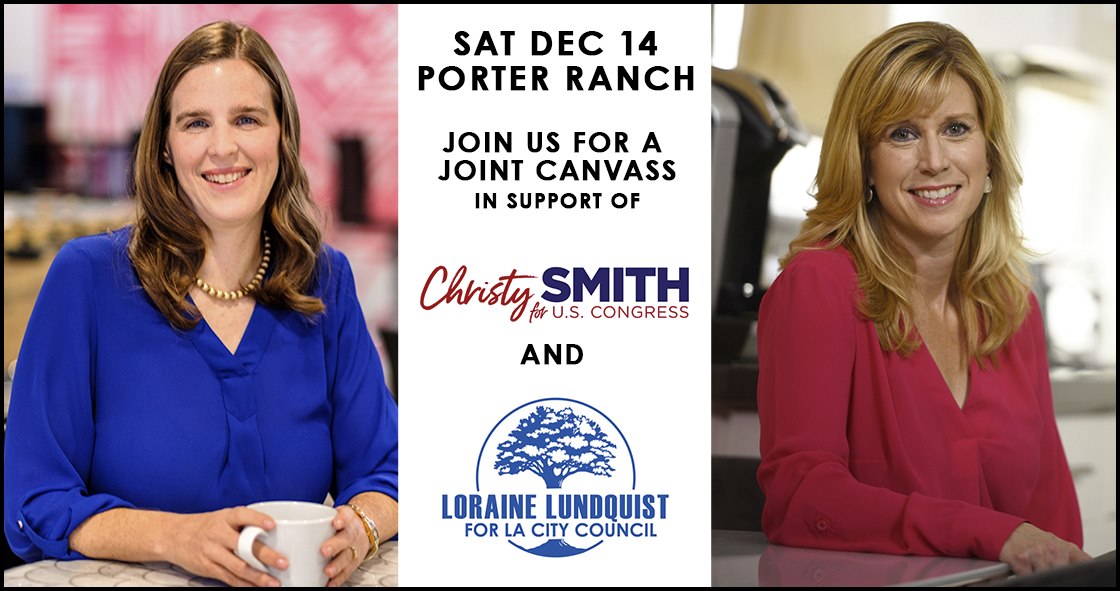 In November we raised more than $18 thousand for Christy! Now we need to show up. 
Christy Smith is THE candidate for holding CA 25! The messaging is vital in this race - there is both a general election and a special election on March 3rd. IF CHRISTY WINS THE SPECIAL WITH 50% +1 IN MARCH THEN SHE'S THE INCUMBENT!
But the messaging is difficult - vote twice for the same candidate is not what we usually tell voters. 
Canvass THIS SATURDAY for Christy  
Every other Sunday Phone Bank in Culver City
1:00 to 4:00 p.m.
Private Address – RSVP on Mobilize for location details
Hosted by Victory Starts Today / West LA Dem Club
The next dates are Dec. 15, Jan. 5, and Jan. 19.  
Monday Evening Phone Bank at the Peace Center
4:30 to 8:00 p.m.
Peace Center, 3916 Sepulveda Blvd, Culver City 90230
Hosted by Victory Starts Today / West LA Dem Club and the Westchester-Playa Democratic Club
Thursday Evening Phone Bank in Santa Monica
6:00 to 8:30 p.m.
337 14th Street, Santa Monica 90402
Hosted with the Santa Monica Democratic Club
Postcard Party in Playa Vista on Thursday, Dec. 12
6:00 to 8:30 p.m.
Private Address – RSVP on Mobilize for location details
Hosted by Westchester-Playa Democratic Club
Write postcards to voters in CA25 and across the country!
Starting in January 2020
Tuesday Evening Phone Bank in West Hollywood
6:00 to 8:30 p.m.
Private Address – RSVP on Mobilize for details
Hosted by Stonewall and Heart of LA Democratic Clubs    
Two of Trump's cronies are jumping into the election to take back the Congressional seat we fought so long and hard for: Steve Knight, who refused to meet with constituents and rubber-stamped Trump's agenda, and George Papadopoulos, the Trump aide who helped set in motion the investigation into Russian interference in the 2016 presidential election and later served time for making false statements to the FBI. There will be both a special election and the regular election in this seat - lots of work for us to do!
WE WILL NOT GO BACK!
Assemblywoman Christy Smith has 63% of the state delegates already pledged to support her (60% is the threshold for State Party endorsement). Christy flipped the 38th Assembly District from red to blue in 2018 with our help and is poised to hold Katie's seat.
It's Now or Never... Our Democracy is at Stake!
 Mission: SAVE OUR DEMOCRACY 
DONE!  Flip the House: together we did that in 2018 - now we need to hold those seats! We're working in California to hold the 7 flipped seats and take back more! 
Next! Flip the Senate: Our California Senators are secure but to block Trump's nightmare appointments we must flip Senate seats in Arizona, Colorado, and beyond.
Then! Flip the White House: Everything about Donald Trump is an insult to our Democracy and the progressive values we all hold dear. From LGBTQ+ rights to border policy to disability rights to climate change to a woman's right to choose to…. The list goes on and on of the ways that Trump has shamefully put wealth-building and cronyism ahead of the values Americans hold dear. We will support and mobilize for the Democratic nominee and take back the White House in 2020!
Make a donation today https://secure.actblue.com/donate/westsidedemhq2020#basics 
Join us in our fight to save our country by phone banking, text banking, canvassing, and registering voters.