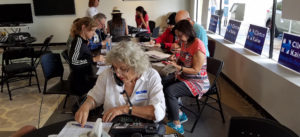 There are many volunteer opportunities at the Westside Democratic HQ including
HQ Tabling Representative

Voter Registration, Volunteer Sign-Up and HQ/Election Awareness at table on Montana Ave.

Phone Banking

Calling Voters in California and Battleground States to collect data and persuade for important candidates and propositions.

Data Entry

Entering data collected via phone banking. Volunteers should be able to bring their own laptops.

Volunteer Scheduling Calls

Call to schedule volunteers for future shifts.

Special Event Setup

Help setup tables, chairs, food and decorations for our special events and phone banks.

Bus Trip to Canvass in Nevada

Day and over night trips to the important battleground state Nevada to canvass in Las Vegas!